Dear customers, dear Sim Pedals Sprint owners,
We're pleased to offer you the Elastomer Kit for Sim Pedals Sprint. This Elastomer Kit allows you to upgrade Sprint brake pedals with early specification brake rubbers to our latest injection molded thermoset brake elastomers.
These elastomers were first introduced on our Sim Pedals Ultimate+. You now have the option to replace your early spec Sim Pedals Sprint brake rubbers with these new thermoset elastomers.
Important to know
Please check your Sim Pedals Sprint brake pedal before purchasing the new Elastomer Kit. These new elastomers may also already be installed on your Sim Pedals Sprint. This is likely the case if you bought your Sim Pedals Sprint from December 2021 onwards.
If your rubbers/elastomers have markings on the top indicating length and resistance ('soft' or 'hard'), you already have the new specification installed. If there are no markings, you have the earlier spec.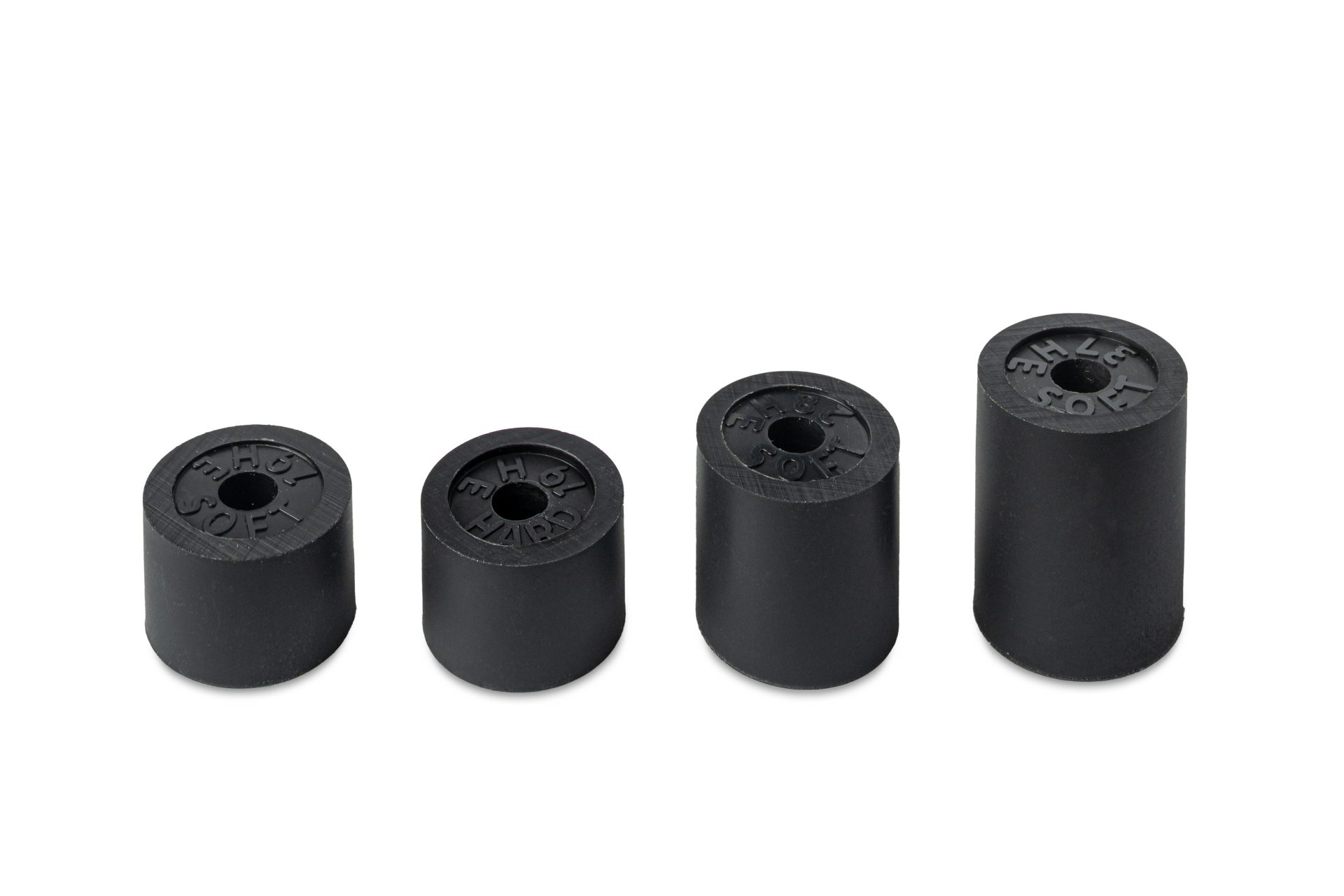 Component overview
The Sim Pedals Sprint Elastomer Kit contains the following components:
1x 19mm hard elastomer.
1x 19mm soft elastomer.
1x 28mm soft elastomer.
1x 37mm soft elastomer.
The length and the hardness of the rubber (soft/hard) are printed on the side of the elastomers.
All other components of the brake rubbers stack (such as the black discs and spacers) should be re-used from your original Sim Pedals Sprint brake.
What are the advantages of our new elastomers?
The key advantages of using these new elastomers compared to the early spec rubbers are as follows:
A much more progressive brake feel. When applying force to the brake initially there will be more travel. Then the brake pedal feel gradually but very clearly stiffens.
Firmer bump and rebound characteristics. Especially on rebound (eg. when you decrease the force you put on the brake) a smaller decrease of brake force is required for the pedal to start moving back to its starting position.
Further improved durability. Extensive testing has shown that these new elastomers have a near zero failure rate and show no performance degradation even after 1 million cycles.
We'd like to stress that this is an optional upgrade. Earlier spec brake rubbers will also serve you very well for years to come, albeit with slightly different performance characteristics.
Visualisation of the force curve
These new elastomers give an even more progressive brake feel compared to the early spec brake rubbers. The force curve of the new elastomers can be seen in this image.
This highly progressive feeling is achieved solely by the design and material compound of the new elastomers, without having to artificially limit the movement of the elastomers when they are compressed. The force curves have been verified using Heusinkveld proprietary force-vs-movement testing equipment.
By using different combinations of elastomers, a total of 6 resistance settings are available.
Installation of the new elastomers
It is very easy to change the elastomers on your brake pedal according to one of the 6 possible resistance settings. You will find a detailed description in the flyer that comes with the Elastomer Kit. Or you can simply watch the tutorial video on our YouTube Channel and follow the instructions step by step.
Who is there for you if you have any questions?
It is important to us that you are as well informed as possible. That's why our Customer Service Team is available to answer your questions and provide feedback via email at info@heusinkveld.com from Mon-Fri from 9am-6pm CEST.
Enjoy your simracing experience!
Thank you,
Your HEUSINKVELD Team
---
Other news