Dear customers, dear simracing fans,
Strong, compact and highly adjustable design with custom electronics and powerful SmartControl software. Our top-of-the-line Sim Pedals Sprint are now available as a Black Edition with a limited stock only!
Highly adjustable design
Heusinkveld Sim Pedals Sprint are a perfect choice for both casual simracers as well as professional Esports drivers. The Sim Pedals Sprint are a strong, compact and highly adjustable design with the main parts made out of CNC precision laser cut steel, intended for your home-use simulator. Mathematical models were made to accurately calculate pedal travel and force curves, predicting with great accuracy how each pedal behaves in different configurations. Fully adjustable pedal geometry and force (120kg load cell with up to 65kg of actual force at the brake pedal plate) and limitless configuration options in the software. The Heusinkveld SmartControl software has an easy-to-use calibration wizard so you'll be back racing in no time.
Black powder coat styling
The Black Edition styling has resulted in a significantly different appearance compared to the regular Sim Pedals Sprint. All metal profiles have a RAL9005 Black fine-structure powder coat or a bead blasted semi-gloss metallic look. Red styling cues can be seen on the metal coil springs.
New custom-made brake elastomers
Our Sim Pedals Sprint – Black Edition are of course already equipped with our new custom-made elastomers. These new elastomers give an even more progressive brake feel compared to the early spec brake rubbers. The force curve of the new elastomers can be seen in this image.
This highly progressive feeling is achieved solely by the design and material compound of the new elastomers, without having to artificially limit the movement of the elastomers when they are compressed. The force curves have been verified using Heusinkveld proprietary force-vs-movement testing equipment.
By using different combinations of elastomers, a total of 6 resistance settings are available.
Corresponding Baseplate
If you want to mount your pedals to a baseplate instead of mounting them individually, check out our Sim Pedals Sprint Baseplate – Black Edition.
Who is there for you if you have any questions?
It is important to us that you are as well informed as possible. That's why our Customer Service Team is available to answer your questions and provide feedback via email at info@heusinkveld.com from Mon-Fri from 9am-6pm CEST.
Enjoy your simracing experience!
Thank you,
Your HEUSINKVELD Team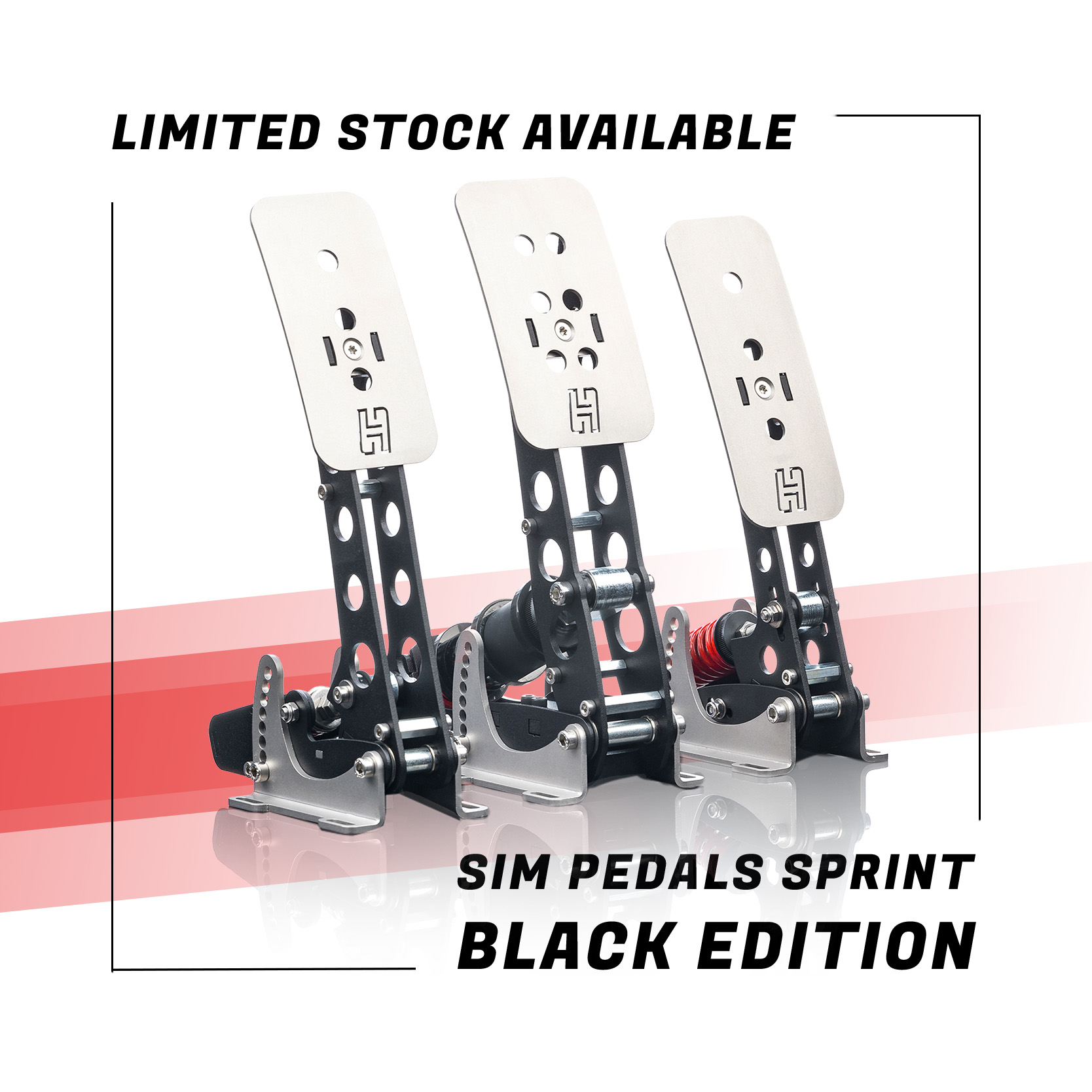 ---
Other news